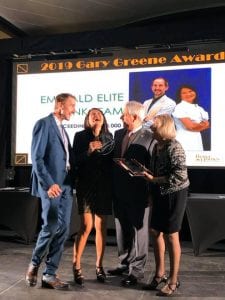 On February 25, 2020, Better Homes & Gardens announced their top producers and top earners for the 2019 calendar year.
In First Place was the Ellis-Nabors Team (Jill Smith Team (9+ members for 2019) whose gross commission income exceeded $1.3M. In Second place was The Jill Smith Team (9 or more members),. In Third Place was the Tammy Hendricks Team (6 or more members) and in Fourth Place was The Frenk Team (3 members) whose gross commission income exceeded $1.1 M. The Frenk Team was named as the #1 small team (4 or less members) and works with no transaction coordinators, working "hands-on" on all homes and parts of the transaction.
This year again, "Pound for pound" The Frenk Team has "hit it out of the ball park" as with almost 170 homes sold, they averaged 3.27 homes sold per week.  Per person, the Frenk Team outsold almost every other producing team in the local industry.
Throughout the city within our company and with other companies, "We are competing with larger groups and with agents who list new construction for no commission" said Norman Frenk, team leader. "It's hard to compare numbers adequately by sales volume and units sold and compare work load across team members".
The Frenk Team also was named as the top producers and top team for Better Homes & Gardens Real Estate Bay Area Office and has held that title for several years.
Aside from real estate sales, Norman Frenk also specializes in home renovations. "This comprises about 15% of my workload and is not calculated into the sales volume (except for homes we buy/sell to/for ourselves) and we make an additional and great income off of this also."
Norman Frenk has been selling homes with Gary Greene Realtors (dba Better Homes & Gardens Gary Greene Realtors) for 26+ years and his wife Felicity has been working with him since 2001.